Driveway Gates, Gate Openers, and Access Control Warr Acres
Whether it is solar powered gates or other security or gate requirements, our team at Gate Guy OKC is the professional gate company you need. We have grown up within Greater Warr Acres and enjoy servicing our community in the best way we know-how. We have spent many years of our lives dedicated to improving the functionality and curb appeal of our client's properties.
Free Instant Quote
Enter your information below.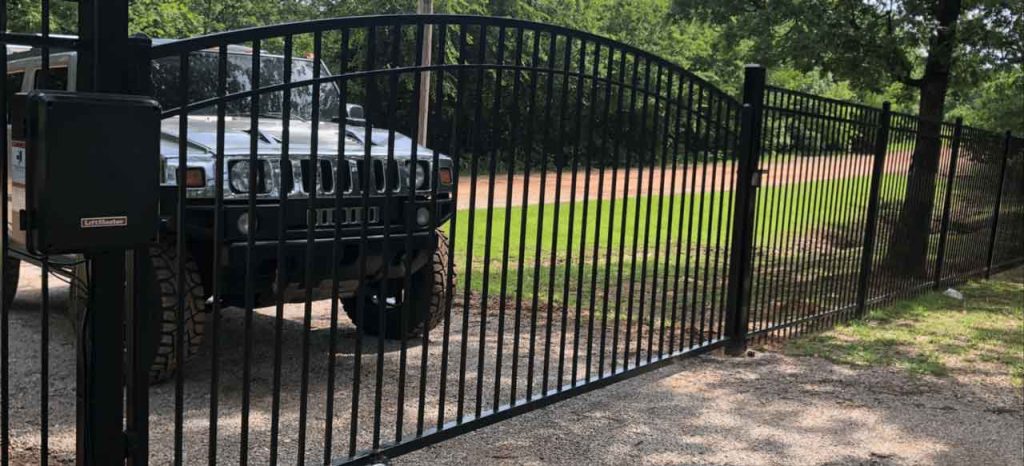 ---
Get the Best Driveway Gates Installation in Warr Acres, Oklahoma County
Working with a regional gate company can help you get the work done whenever you need an existing slide gate repair, security gate repair, or are in the market for a custom gate installation. Driveway gates can increase curb appeal and add value to your property. They can can be found in many options in shapes and sizes and for various reasons. In some cases we need to keep things out like wild animals or intruders and other times we may need them to keep things in, like kids and family pets. Other times we may simply need them to specify the limits of our residential or commercial properties. Driveway gates and fencing company Warr Acres understands everything there is to know about fence installation and gates and the wide variety that is offered on the market to help you make the ideal choice for your residential or business property in Warr Acres. The Gate Guy OKC is a leader in all elements of entry management features, dual gate security, and entree control in Warr Acres, Oklahoma County We install and repair custom automatic gate openers, automated security dual gates,swing gate, gate operator, custom driveway gates, slide gate, personal privacy fencing, telephone gain accessibility to systems, and much more. We also provide gate maintenance information after installation. We do business and residential fence installation. Call us today for a free quote at 405-261-0475.
About Our Gate Opener and Fence Installer Warr Acres
We design excellent automatic electric gates opener as well as ornamental iron gates for residential driveways and custom iron gates that can protect your family and increase the curb appeal and add value to your home. Our custom-built driveway gates are the ideal finishing touch for the time and effort you've put into your home design. We can help you choose the best options for you at a friendly price.
We are the leading group of expert installers in Warr Acres, Oklahoma County when it pertains to the entry industry including electric openers, dual or single swing gate openers, sliding gateway openers, security openers, driveway openers, automatic openers, barrier gate openers, and remote gateway openers. After several years of providing fencing services and gateway installation, we have actually grown a strong credibility for our brand through our top quality maintenance and understanding of how to help you address your accessibility and entry operator management concerns. We have actually been servicing our community in the Warr Acres city and other cities including: Bethany, Woodlawn Park, Nichols Hills, The Village, Britton, Oklahoma City, Yukon, Wheatland, Piedmont, Flynn
Problem-solving is what we are enthusiastic about and helping to choose the right entree solution for our customers and ensuring their fulfillment offers us a sense of pride and made us on top among the others.

About Electric Gate and Gate Openers Warr Acres
Automatic Gate Installation Warr Acres
A safety swing or sliding gateway may require a different opener. A chain drive is used to open sliding gates. It can be found at their base. A sliding doorway does not require a complicated motor. An easy-to-install electronic motor or automated entry opener can help you save time and money when it comes to getting to and leaving your home, business, and community. Most gateway openers are designed to work for a certain amount of weight. For example, let's say you have a wrought iron gate. Because it will be heavy, it is important to get an opener that can easily handle the weight. Using a top quality entrance opener will also ensure that the driveway opener will act as designed. And will continue to function for a long life span.
We also offer high quality solar powered entrance operators. Entrance openers make it easy to open and close your gate. We also offer gateway repair services if your existing entry opener is not working and we work with safety standards. Gate Guy OKC has the expertise to install an electric gate motor opener that will make your life easy at the best price.
Access Control Installation and Fencing Services
Our Access Control Services Warr Acres
A commercial access control system is an electronic system that controls who can open the doorway or gain access to a building, floor, or room within a building. It is possible to give different entree levels to others without having to use a key. Modern organizations are constantly noticing the benefits of an access control system installed. Multi-layered access systems are possible. Multi-layering allows you to limit access to different parts of your facility. The entire system can also be automated and connected to provide a variety of conveniences. Gate Guy OKC Warr Acres assists businesses and selected residences with installing high quality accessibility systems. Our team is always up to date with the latest access control regulations to help you choose the best options for your needs at the best price and guide you throughout the way.
Our group is known throughout our city as the experts for gateway motor repair and other services associated to quality gates whether swing gates or sliding gates. This suggests that we offer a series of various services to ensure that we have the ability to satisfy each of our customer's needs with safety standards relating to the gates within their residential or business property. These services include driveway gates, slide or swing entry operator, personal privacy fencing, and access control services. To allow us to give the service levels our customers have actually pertained to anticipate from us we work with a series of driveway opener brands and product types. We also provide the right maintenance as our post-care service. We have actually briefly explained these choice of services here, nevertheless, if you would like more information on them put follow the links through to the dedicated services.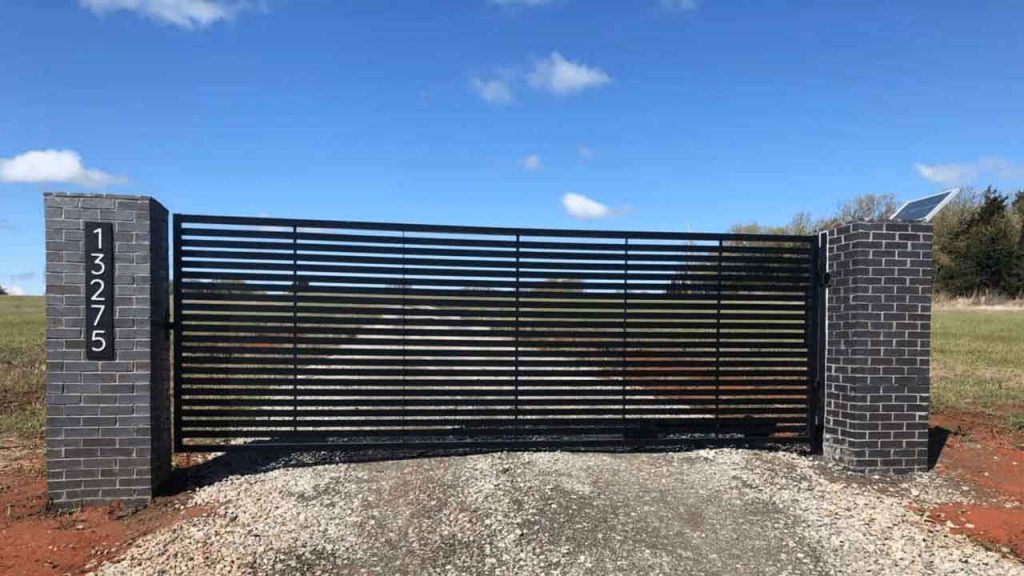 Driveway Gates Warr Acres
Having your property installed with security gates on your driveway is one of the best ways to secure your property. Our team provides our clients with iron gates, metal gates, sliding gates, and any other
custom driveway gates whether single or dual swing gates to suit the needs of your property. We are known for our precision when we work to provide gateway installation for our clients and ensure that they both look great and function perfectly.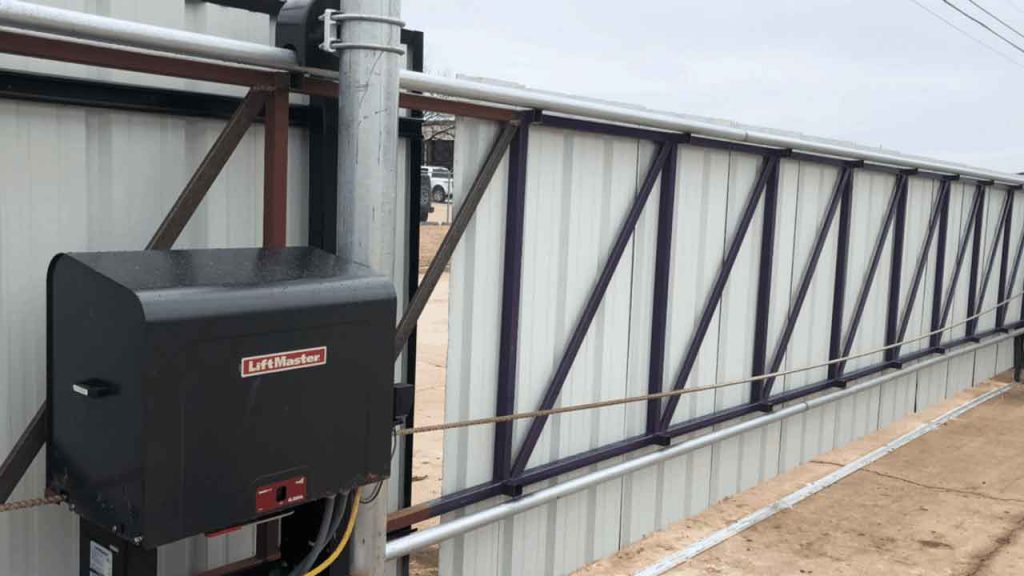 Liftmaster Gate Opener Warr Acres
To make sure that our clients are able to have the best possible gateway both in manufacturing and installation, we work with some of the top product entrance opener brands at an affordable price in the market. The driveway openers we frequently use and recommend include a LiftMaster gate opener, US automatic gate opener, Apollo, HySecurity gate operator, and Doorking. These are all well-known reputable product brands so you can rest with confidence knowing that your new driveway is in the safe hands of the experts.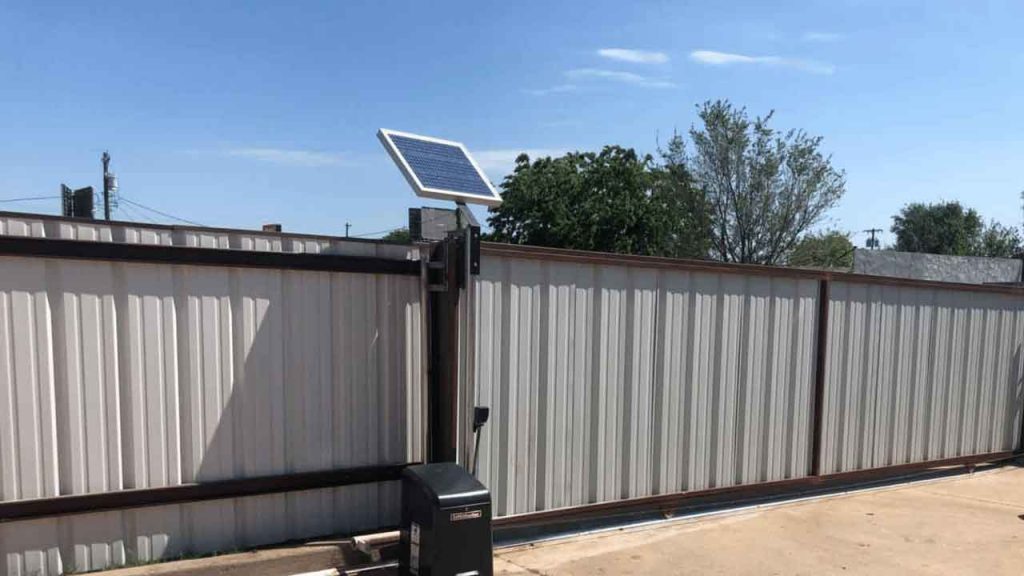 Electric Gate Opener Warr Acres
There is a range of different electric gates our team is able to provide for you, but the most popular is the electric automatic gates. We are able to provide our clients with a range of solar-powered gates and commercial security gates in a range of different forms. Whether you are looking for a dual swing opener or a single sliding opener, we have the perfect solution for your property. We work with only the best swing entrance operator to ensure that you receive the best gateway and/or repair services.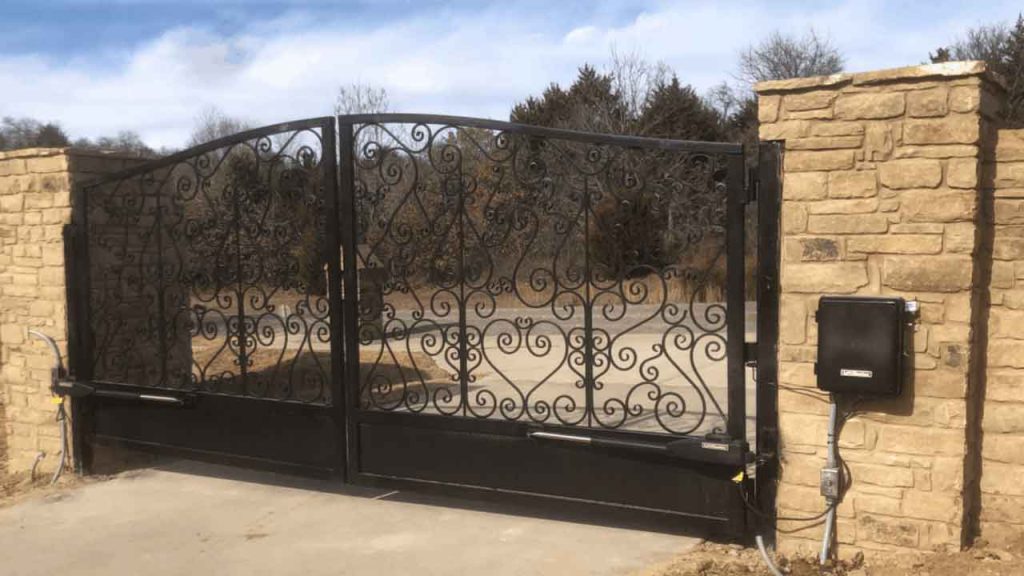 Access Control Warr Acres
For any custom automatic gate, you will naturally require some form of access control security system to grant the gateway permission easy to open. The most common form of accessibility control includes remote controls, telephone opening systems, and keypad opening. We are well known for our precision in entree control installation ensuring that the wiring is done correctly for the smooth operation of your custom gate.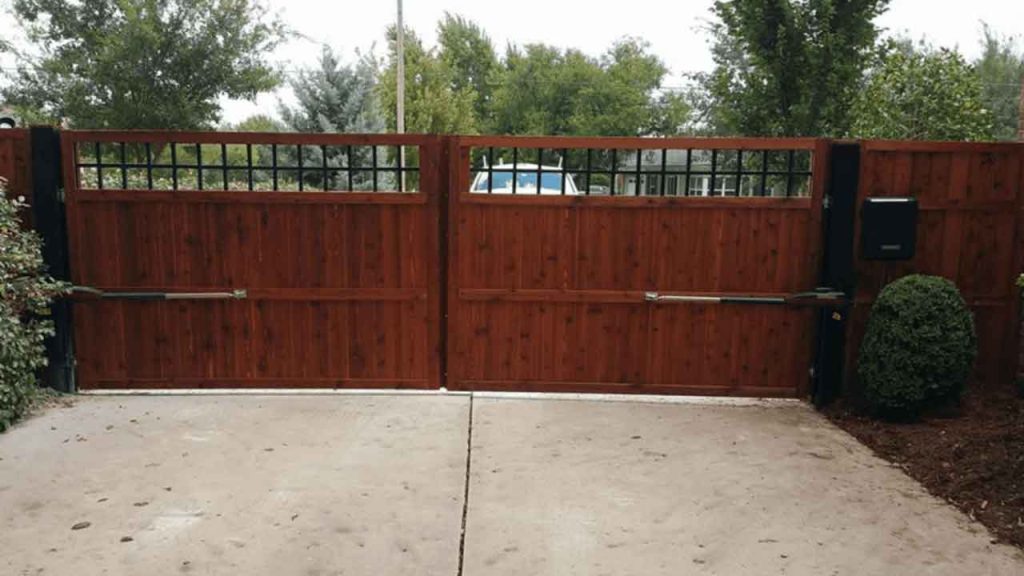 Fence Company Warr Acres
As a reliable professional gate and fence company, we are well known throughout Warr Acres for our wood fences, metal fences, dog fences, and stockade fences as well as a number of entry solutions and repairs. If you have the requirement to secure a fence installation or driveway and want it to reflect the high standards in which you keep your property, you need to contact the experts. We will work with you to find a solution that is functional and aesthetically pleasing.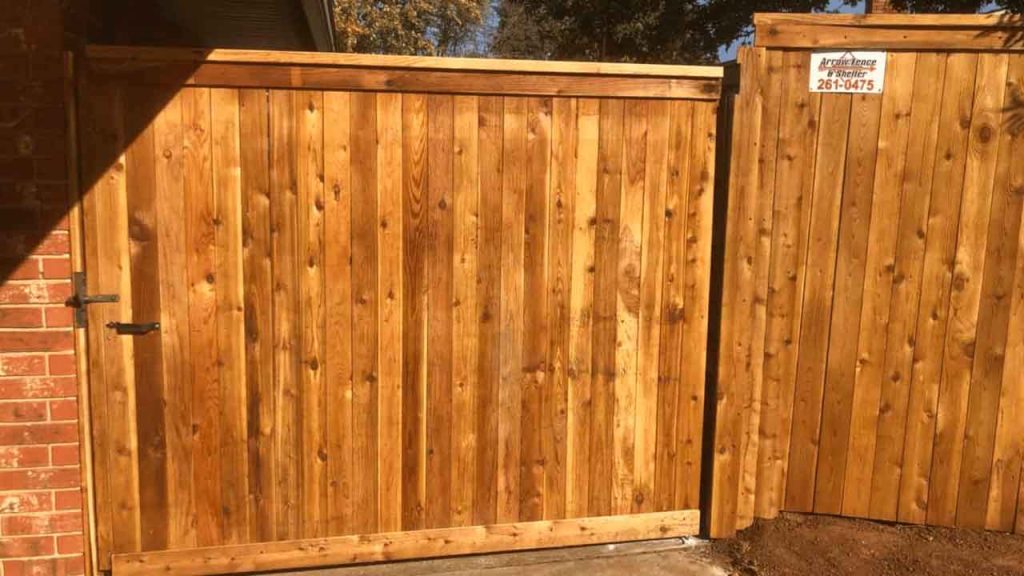 Privacy Fencing Warr Acres
Whether you are a residential or commercial property owner, something we all have in common is our desire for privacy. We provide our clients with an available range of privacy fences including both wood fences and wood vinyl fences that will blend in nicely and add to the presentation of your property, as well as provide you with home security and the privacy you greatly need.
Cartic Vengkatraman
2021-07-17
Excellent service; very knowledgeable and skilled. Was respectful of my property. Showed up the very next day after our call, exchanged pictures before hand of issue. Very responsive and courteous. Would definitely recommend and use again.
I had them install an ornamental iron fence with a driveway gate and operator. Completed the job exactly when they said they would and everything has worked great.
Great communication and professional done job. Definitely will use this company on future projects!
Ali Daneshmand
2020-12-03
Very prompt and quick. Highly recommended.
Tony Webb-Rector
2020-12-02
The install was done in one day. It was exactly what we asked for. Very courteous and professional. We love this gate.
OUR SERVICE AREA
We install Gate Openers, Access control, and Driveway Gates throughout Warr Acres and the surrounding area, including:
The county seat of Oklahoma County ranks 25th among United States cities in population. The population has been growing and is estimated to be over 790,000. Warr Acres is a progressive city in Oklahoma County. It has a longitude of -97.61893 and latitude 35.52256. There are many businesses and properties in Warr Acres, Oklahoma County which need an opening system like driveway gates, gateway openers or entrance operators, and access control systems and parts accessories. As the most reliable gateway company, we serve homes and businesses throughout this area and other neighboring cities by installing fences, gates, gateway operators, and access control.
CONTACT US
Time to Call The Best Warr Acres Gate and Fence Installer Near Me!
If you have the requirement or want a new gateway or installing a fence within your property, our team of experts will gladly guide you. We are experienced in the design and installation of a range of different fences whether they be for functional or privacy requirements which can help you to find the perfect solution for your property. If you are interested in hearing more about the services we offer, would like to know our pricing, or want to book a service, we are open to your inquiries, please don't hesitate to call our team of friendly staff today. We offer a great friendly price!