Looking For an Automatic Gate Opener Installer Norman OK?
GATE GUY OKC
Security Gate Installer Norman OK
---
Security Gates and automatic gates are increasingly poplular in Norman homes. They are a vital part of secure access control systems. You may not realize that wrought iron, metal or steel security gates come in a variety of styles and sizes and can be custom designed to match your home's style. In addition to the residential gate or commercial gate themselves, the gate operator, intercom, keypad, phone entry, card access systems, remote transmitters, push buttons, card reader, garage door opener, electronic gate lock and other devices are all essential fo access control systems.
GATE GUY OKC
Automatic Gate Opener Norman OK
---
A high quality automatic gate opener and/ or gate can enhance the security and appeal of your home but they are only as secure as the accessories that are used to control them. So it is important to talk to an experienced installer of automatic gates to ensure that you acquire and install the correct devices to properly secure your house. We offer the highest quality installation so call us for a free quote.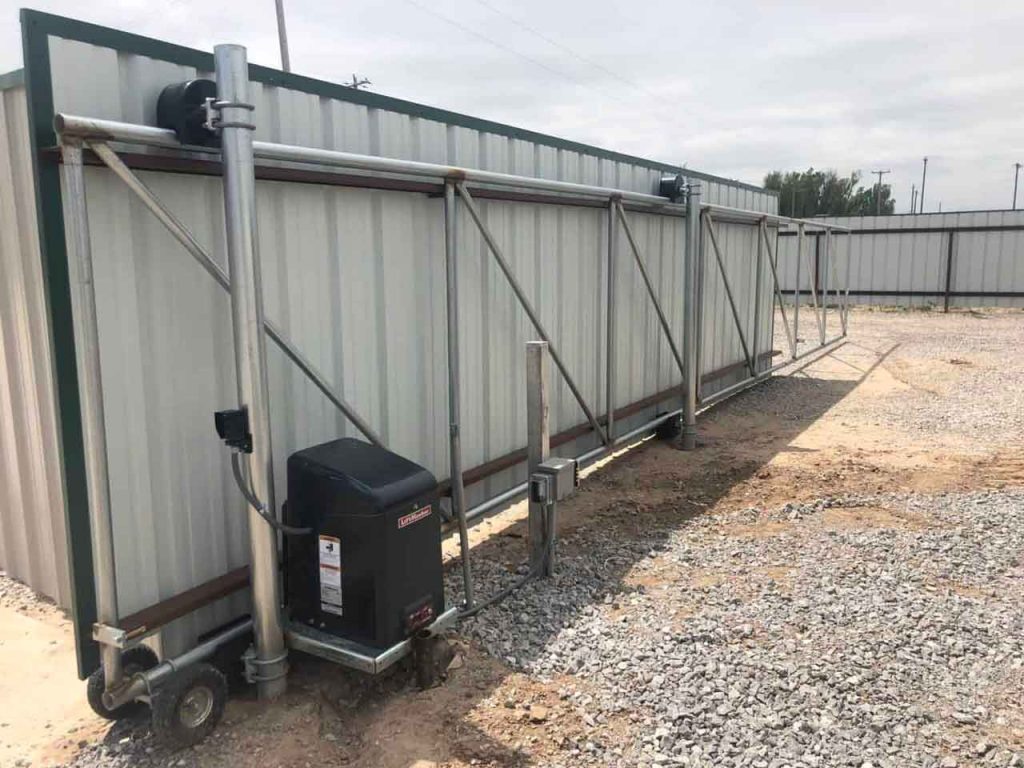 Why Install Automatic Gates for Your Home's Driveway?
---
The advantages of having automated gate entry to your residential driveway include firstly added security, secondly greater property value and thirdly, curb appeal. A custom automated driveway gate installation can prevent unauthorized persons or vehicles from coming onto your property. It can also be the perfect solution to protect your children, pets and other members of your household, particularly if you also have a good fence installed around your property.
When properly constructed, an automatic mode for your residential gate entrance can have a stately presence that improves the curb appeal of any home or business. Our custom gates are high quality, made locally with an impressive look style that will enhance the value of your property. There is also greater value through the convenience that an automatic gate has as opposed to a manually operated gate. You can increase the resale value of your property through installing and driveway gate though automatic entry with a motorized gate opener and other access control accessories. Call us today for a free quote.
Get

In Touch
By clicking the Button below.
Intercom and other Controlled Access Devices
---
Devices such as Keypads, Intercom systems, telephone entry, card readers, door controllers, software, radio remote, push button, access codes, smart card, exit buttons, remote transmittors, key switches, access card, garage door opener, garage door accessories, security doors, upgrades to existing doors and more all have a significant role in putting together a secure access control system. We can advise you on which will be the best for your property.
Automatic Gate Opener Installer Near me
We are well located to provide quality service for the entire Oklahoma City Metro and surrounding areas including Norman, Normand, Norman, Norman, Yukon, Tuttle, Norman, Tulsa, Newcastle and more.
Norman was settled during the Land Run of 1889, which opened the former Unassigned Lands of Indian Territory to American pioneer settlement. The city was named in honor of Abner Norman, the area's initial land surveyor, and was formally incorporated on May 13, 1891. Economically the city has prominent higher education and related research industries, as it is home to the University of Oklahoma, the largest university in the state, with nearly 32,000 students enrolled. The university is well known for its sporting events by teams under the banner of the nickname "Sooners", with over 85,000 people routinely attending football games. The university is home to several museums, including the Fred Jones Jr. Museum of Art, which contains the largest collection of French Impressionist art ever given to an American university, as well as the Sam Noble Oklahoma Museum of Natural History.